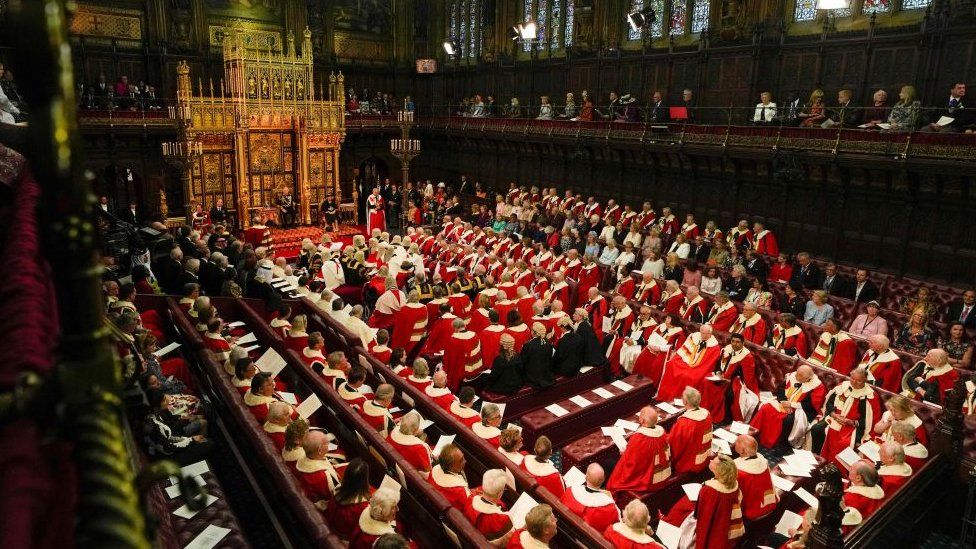 By Ione Wells
BBC News
Labour would abolish the House of Lords and replace it with a "new, reformed upper chamber", the party has confirmed to the BBC.
Sir Keir Starmer told Labour peers that he wanted to strip politicians of the power to appoint people to the chamber in the first term of a Labour government.
He said that Tory leaders have handed peerages to "lackeys and donors".
The party is expected to confirm its plans in its next manifesto.
The Observer first reported that part of the reason for reform was because the public "have lost faith in the ability of politicians and politics to bring about change", according to Sir Keir.
It plans to hold a consultation on what a reformed new chamber would look like – including on its size and composition – in addition to reforming the current appointments process.
Sir Keir also told peers there was strong support for reforming the House of Lords and that any new chamber should be elected by voters not fellow politicians, but that the second chamber would remain a place for scrutinising and amending new laws rather than forming governments or setting budgets.
The size and role of the House of Lords has come under scrutiny in recent years, with warnings that membership has grown excessive, with 784 sitting members.
Concerns have also been raised about some of the peerages issued by former prime ministers including Boris Johnson, notably the peerage of Lord Lebedev.
The media mogul and son of an ex-KGB agent was given a life peerage in 2020 but has spoken just once on the floor of the House.
Mr Johnson has also faced accusations that he has proposed several Conservative MPs for peerages but told them to delay accepting them to prevent triggering by-elections.
Plans to reform the appointment process of the House of Lords are one step closer to becoming law after several peers from across the political spectrum acknowledged the upper chamber is "too large".
On Friday, the House of Lords (Peerage Nominations) Bill passed its first reading, which would require the prime minister to wait until a commission advises on whether a nominated individual met specified criteria to be granted a peerage.
This is not the first time the plans to abolish the upper chamber have been mentioned by Sir Keir.
The Labour leader made the same pledge as part of his leadership campaign.
His comments also echo ideas that have formed part of a review overseen by former prime minister Gordon Brown into the constitution of the UK.
The plans also advocated expanding devolution – the decentralisation of power and decision-making from central government to nations and regions.
More on this story
Related Topics