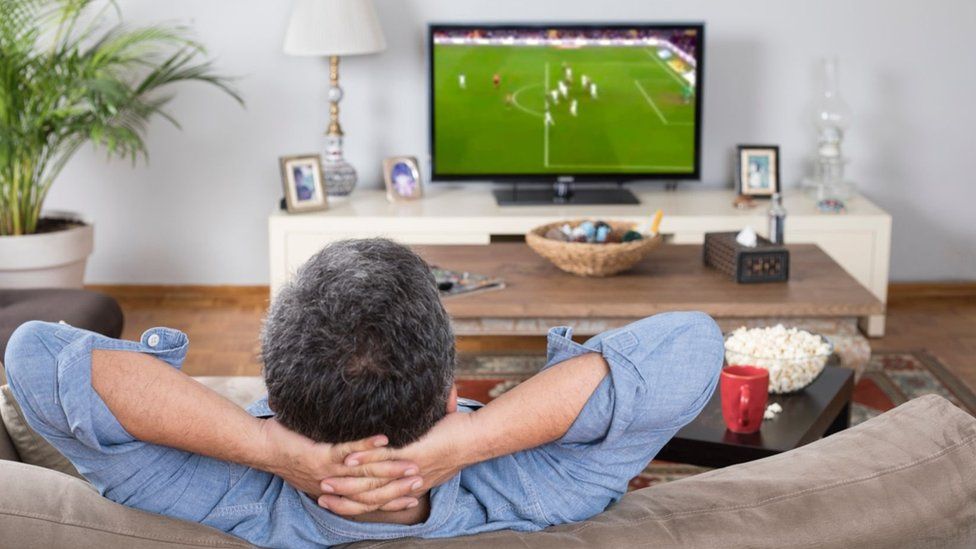 By Ben King
Business reporter, BBC News
At 13:00 on Monday, a hush will descend across many of England's workplaces.
The England men's football team are taking on Iran at about the time staff would normally be tucking into their sandwiches. And on Friday Wales will play at an even more disruptive 10:00.
Bosses are having to decide how to deal with workers who are likely to be, at best, a little distracted.
Do you go for World Cup wall charts in the office, lunchtime beers and matches on a giant screen? A total ban? Or something in-between?
A lot of firms are embracing the inevitable and showing the big matches for those at their desks.
But this is the first men's World Cup of the work-from-home era, so there's another easy way to deal with the games that happen in office hours: let staff work from home that day.
Leeds Building Society, for instance, encourages flexible working, so they will leave it to individual employees to decide for themselves whether to watch the games at home or even down the pub.
A survey by pollsters Opinium found that altogether nearly half of working fans will be allowed to watch the game during office hours.
Just over a quarter of fans said that their employer will show the matches live, while one in five will allow them to watch the football elsewhere.
Cardboard cut-out
Some businesses are viewing the World Cup not as an inconvenience that needs to be managed, but as an opportunity. They are using it as a chance to have some fun in the office, and bond with colleagues and maybe clients over a shared love of "the beautiful game".
Own Your Space, a digital agency in Bolton, are going all out with a quiz, music, a prize draw and a "keepy-uppy" competition. Overseeing it all will be a life-size cardboard cut-out of England manager Gareth Southgate.
"It's important to work hard and play hard," says the firm's founder and director Dom Pope. "Why not celebrate?
Anglian Translations, in Cambridgeshire, is using the World Cup as a way to unite the company's office staff and network of hundreds of freelance translators around the globe.
"It is a good excuse to build team spirit within the office and talk about their different nationalities," says Mary Gilbey, the managing director. Her team includes fans of England, Wales and their group stage opponents, Iran.
"But of course we have to be respectful of the fact that not everyone likes football – and some people's countries haven't qualified," she says.
As for the actual games, workers can watch on their computers, whichever country they support. "I'd rather people were in the office and a bit distracted for an hour and a half, than people saying, 'I'm off sick, I'm not coming in today.'"
Not everyone is lucky enough to have bosses who share or at least tolerate their love of football, though.
Some 9% of workers told pollsters YouGov that they intend to watch the game when they should be working, without their employer's knowledge – which could leave them at risk of disciplinary action.
But at least if either of the home nations make it out of the group stages, the big knock-out games will only be on in the evenings and at weekends.
Controversial hosts
The Qatar World Cup also presents football fans with a dilemma. Can you follow the tournament without somehow appearing to endorse the hosts' treatment of migrant workers who built the stadiums, and LGBT citizens of their own country?
"We are football fans, and we will enjoy the games," says Sean Keyes, managing director of the Liverpool-based civil and structural engineering firm Sutcliffe, who will be watching on a big screen in the office with around 60 colleagues – and a beer or two.
"But the World Cup shouldn't be there. The way they treat the LGBT community and the way they have looked after their migrant workers just isn't good enough," he says. "That's not who we are – as a nation, as a people, and as a business."
As part of the construction industry, he feels the issue of workers' safety particularly keenly. More than 6,000 migrant workers are reported to have died building the facilities for the tournament, though Qatar has contested that number.
"The stats are just ridiculous. It is just not acceptable," he says.
Though some businesses have decided to boycott the World Cup altogether, others, like Sutcliffe have found a way to disapprove of the hosts but still watch the games.
As for actually enjoying them? Well, that's all down to the men on the pitch.
Related Topics